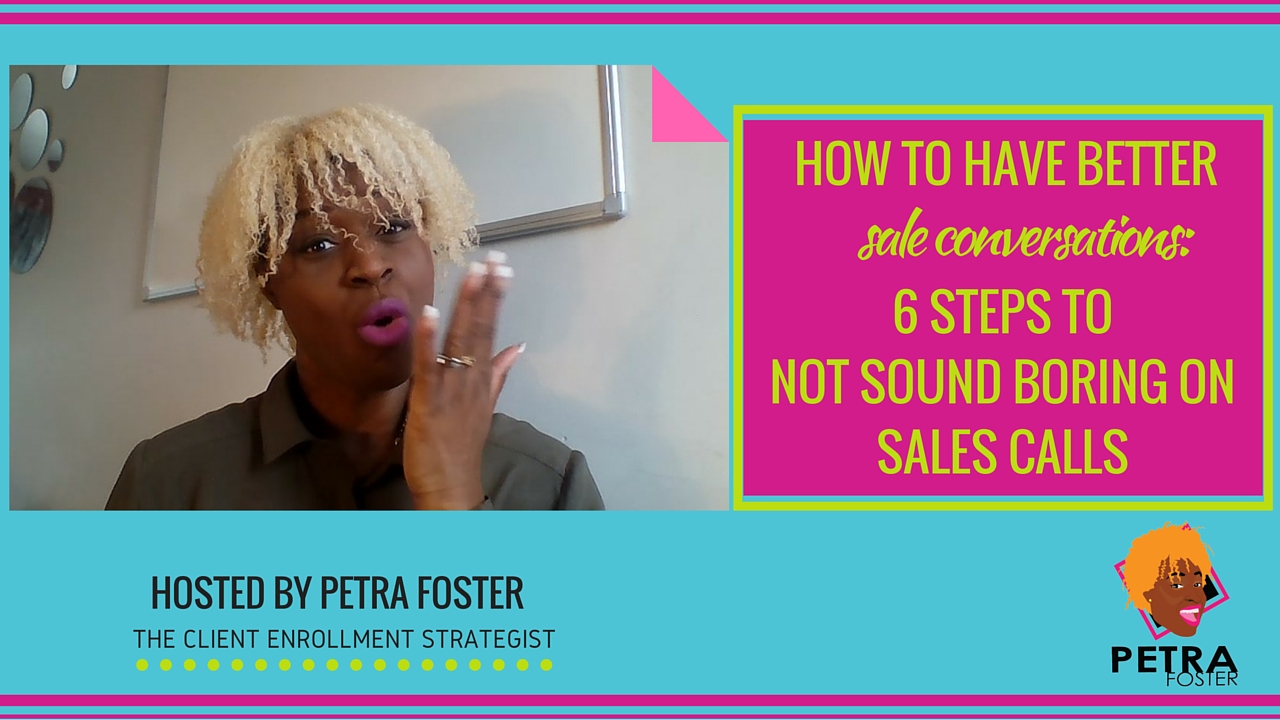 [av_social_share title='Share this entry' style=" buttons=" share_facebook=" share_twitter=" share_pinterest=" share_gplus=" share_reddit=" share_linkedin=" share_tumblr=" share_vk=" share_mail="][/av_social_share]
[av_codeblock wrapper_element=" wrapper_element_attributes="]

[/av_codeblock]
[av_textblock size=" font_color=" color="]
How To Have Better Sales Conversations: 6 Steps To Not Sound Boring 
Duration 4.14
Selling is a transfer of emotion or energy that influences a potential client's buying decision and motivates them to take action straight away.  Most buying decisions are made based on emotion first, then logic, especially when selling high ticket coaches services, where the prospect is seeking a transformation in their life business or health.
I'm going to share with you, "How To Have Better Sales Conversations: 6 Steps To Not Sound Boring" by transferring your emotion onto your potential client to get them excited about working with you.
When a prospect comes onto a call with you, you must have the ability to make them feel better about themselves whilst speaking with you. It's always best to speak to your prospects face to face in person or on Skype, when selling high ticket coaching services, this is if you are having the sales calls yourself and do not have a team of sales people handling the calls for you.
Here's what we cover in this video
Congratulate them for booking this call with you, because by booking the call they have admitted that they have a problem and believe that you have the solution.
Share with them why you're excited to speak with them
Always smile
Pay attention to the words that they use, and use the exact same words
Get excited about your offer
Help them to visualize what their life will look like when they begin to work with you
Transferring your emotion onto your potential clients helps the buyers emotional need as well as seeing themselves working with you to achieve their desired transformation.
WANT TO CREATE A SELLING SYSTEM FOR YOUR SERVICE BASED BUSINESS THAT WILL CONVERT HOT PROSPECTS INTO HIGH-PAYING CLIENTS CONSISTENTLY?
IF THAT'S YOU
I will personally work with you to position yourself as a premium brand to create high ticket packages and make more sales
YOU ARE  JUST ONE STEP AWAY…..
Your next best move is to book your FREE strategy session with me today.
Click this link to book your session into my diary.
Most Coaches Focus On Things That Don't Matter
I Focus On YOU Getting Sales FAST With Ease and Flow
using:
The Attract Sell and Enroll Method
The ultimate selling system for your business that helps you to attract clients, master selling techniques and enroll more high paying clients consistently
Here's what you'll walk away with after our call
Stunning packages & services that sell themselves
A simple strategy for creating high end clients
Remove obstacles holding you back from building a prosperous business
Clear goals for your business you will love
 Book your strategy session today
See you on the call
Petra
[/av_textblock]